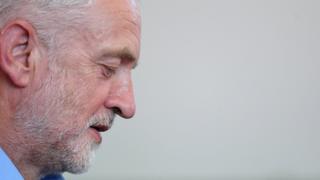 Jeremy Corbyn has called on Donald Trump and Kim Jong-un to "ratchet down the rhetoric" and said the situation between their countries was "obviously extremely dangerous".
The Labour leader called for talks and said he hoped one day North Korea would enter the "orbit of the rest of the world".
North Korea has threatened to fire missiles into the US territory of Guam.
This was in response to the US president's warning of "fire and fury".
Mr Trump has also boasted about America's nuclear arsenal, while unconfirmed reports claim Pyongyang might have made a nuclear warhead small enough to fit onto a missile.
Mr Corbyn, a longstanding anti nuclear campaigner, said the idea of anyone using nuclear weapons was "unthinkable".
"We don't need a world with nuclear weapons, and there's no such thing as an isolated nuclear strike and so we need to ratchet down the rhetoric on both sides," he said.
He added: "Hopefully one day North Korea will come into the orbit of the rest of the world… there is no such thing as an isolated nuclear attack, it would kill millions, on both sides of the Korean border and of course in neighbouring countries."
Asked about President Trump's "fire and fury" warning, Damian Green, the UK's first secretary of state, said: "Let's hope it doesn't come to that."
He added: "That's why we are operating as hard as we can through the proper diplomatic channels to make sure that we see a de-escalation of tensions."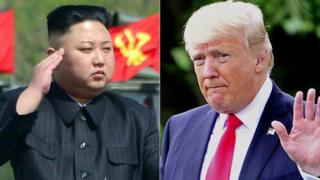 Tensions have increased in recent days, with North Korea saying a plan that could see it fire four missiles near Guam will be ready in a matter of days, if approved by Kim Jong-un.
It described President Trump as "bereft of reason".
The US has warned the North its actions could mean the "end of its regime".
US Defence Secretary Jim Mattis said Pyongyang would be "grossly overmatched" in any war against the US and its allies.